The holiday season is a wonderful time to come together with loved ones and cherish the simple joys that life has to offer. And what better way to make the most of this festive time than by indulging in a myriad of delightful activities? To help you fully immerse yourself in the Christmas spirit, we have compiled a comprehensive list of 60 unique experiences to embrace throughout this joyous season.
1. Delight in the enchanting beauty of Christmas lights as you stroll through mesmerizing neighborhoods adorned with twinkling decorations.
2. Gather around a crackling fireplace with your family, savoring heartwarming conversations and enjoying the cozy ambiance.
3. Create lasting memories by engaging in delightful activities such as baking delicious cookies, decorating the tree, and wrapping gifts with love and care.
4. Immerse yourself in the magical world of holiday movies, curling up on the couch with a warm cup of cocoa, and relishing in the heartwarming stories that fill your living room with joy.
5. Venture outdoors and embrace the winter wonderland by building snowmen, having snowball fights, and sledding down snowy hills.
6. Spread kindness and goodwill by volunteering at local charities or participating in initiatives that bring happiness to those in need.
7. Attend festive concerts or musical performances, allowing the beautiful melodies to fill your heart with the spirit of the season.
8. Explore local Christmas markets, where you can find unique gifts, delicious treats, and experience the vibrant atmosphere of holiday cheer.
9. Take a moment to reflect on the true meaning of Christmas by attending religious services or participating in spiritual practices that resonate with your beliefs.
10. Embrace the art of giving by organizing a gift exchange with friends or family, where each present is thoughtfully chosen to bring joy and happiness to its recipient.
11. Indulge in the delectable flavors of the season by trying out new recipes, such as gingerbread cookies, eggnog, or a mouthwatering roast dinner.
12. Engage in festive crafts, such as creating handmade ornaments or designing personalized holiday cards, allowing your creativity to shine.
13. Set aside time for self-care and relaxation, whether it be through indulging in a soothing bubble bath, practicing mindfulness, or enjoying a good book by the fireplace.
14. Attend local community events, such as tree lighting ceremonies or parades, where you can join in the merriment and celebrate with fellow community members.
15. Capture the magic of the season by taking family photos or organizing a holiday-themed photoshoot, creating cherished memories that will last a lifetime.
16. Unleash your inner child by building gingerbread houses, partaking in a festive scavenger hunt, or engaging in spirited board games with loved ones.
17. Embark on a winter adventure by going ice skating, skiing, or snowboarding, relishing in the exhilarating activities that the season offers.
18. Dive into the world of storytelling by reading classic holiday tales or creating your own narratives, inspiring the imagination and spreading joy.
19. Dedicate time to acts of gratitude and reflection, expressing appreciation for the blessings in your life and sharing heartfelt sentiments with those you hold dear.
20. Engage in acts of service, whether it be donating to charities, volunteering at shelters, or simply lending a helping hand to someone in need.
21. Embrace the spirit of togetherness by hosting festive gatherings, filled with laughter, delicious food, and cherished moments of connection.
22. Discover the beauty of nature during the winter season by taking scenic walks, admiring frost-covered landscapes, and marveling at the intricate patterns of snowflakes.
23. Attend holiday performances, such as ballets or theatrical productions, immersing yourself in the magic of storytelling and captivating performances.
24. Engage in gratitude practices, such as keeping a gratitude journal or expressing appreciation for the small joys that surround you each day.
25. Explore your creativity by crafting handmade gifts, such as knitted scarves or personalized ornaments, infusing your presents with love and thoughtfulness.
26. Embrace the joy of giving by donating to toy drives, ensuring that every child experiences the wonder and delight of the holiday season.
27. Experience the magic of Christmas markets, where you can wander through stalls filled with unique gifts, delectable treats, and festive decorations.
28. Engage in acts of kindness, spreading joy by surprising loved ones or strangers with small gestures of generosity and thoughtfulness.
29. Create a cozy ambiance by decorating your home with twinkling lights, fragrant candles, and festive ornaments, transforming your space into a winter wonderland.
30. Engage in family traditions, whether it be watching a favorite holiday movie, singing carols together, or exchanging heartfelt letters.
31. Take a moment to appreciate the beauty of holiday decorations, admiring intricately designed ornaments, and reveling in the festive colors that adorn homes and streets.
32. Attend holiday-themed workshops or classes, learning new skills such as wreath making, calligraphy, or creating handmade gifts.
33. Share the joy of the season by organizing a charity drive, collecting donations for those in need, and making a positive impact in your community.
34. Engage in acts of selflessness, whether it be by volunteering your time, offering a listening ear to someone in need, or performing random acts of kindness.
35. Create a playlist of your favorite holiday tunes, filling your surroundings with melodies that evoke nostalgia and create a joyful atmosphere.
36. Embrace the beauty of winter landscapes by going on scenic hikes or nature walks, reveling in the serenity and tranquility that the season brings.
37. Celebrate the diversity of holiday traditions by learning about different cultures and their unique ways of celebrating this festive time of year.
38. Organize a festive game night with loved ones, filled with laughter, friendly competition, and cherished moments of connection.
39. Share the magic of Christmas with children by organizing a visit to Santa Claus, where they can share their wishes and dreams with the jolly old man himself.
40. Take pleasure in the simple act of giving by handcrafting heartfelt gifts for loved ones, infusing each present with your creativity and personal touch.
41. Embrace the joy of holiday baking, filling your home with the delicious scents of freshly baked cookies, cakes, and pies.
42. Engage in acts of gratitude by writing letters of appreciation to loved ones, expressing how much they mean to you and the impact they have had on your life.
43. Attend festive theater productions or concerts, immersing yourself in the magic of live performances and the talent of artists.
44. Revel in the beauty of winter sunsets, capturing the breathtaking hues that paint the sky and admiring nature's artistry.
45. Engage in acts of kindness by donating warm clothing, blankets, or food to those in need, spreading warmth and compassion during the colder months.
46. Create a festive atmosphere by hosting a holiday-themed party, complete with delicious food, joyful decorations, and merry entertainment.
47. Take a moment to appreciate the beauty of holiday cards, admiring the intricate designs and heartfelt messages that bring joy to loved ones' mailboxes.
48. Attend holiday workshops or classes, learning new skills such as wreath making, calligraphy, or gourmet cooking, and infusing your celebrations with a personal touch.
49. Dedicate time to relaxation and rejuvenation, whether it be through practicing yoga, meditating, or indulging in a pampering spa day.
50. Explore the world of holiday desserts, indulging in sweet treats such as gingerbread houses, fruitcakes, and decadent chocolates.
51. Engage in acts of compassion by volunteering at local shelters, helping to provide warmth and comfort to those less fortunate during the winter season.
52. Create a festive playlist of your favorite holiday tunes, filling your home with melodies that inspire joy, nostalgia, and a sense of togetherness.
53. Take a moment to appreciate the beauty of snow-covered landscapes, marveling at the intricate patterns and the serene ambiance they create.
54. Engage in acts of service by organizing a food drive, collecting non-perishable items to support local food banks and ensure that everyone has a warm meal during the holidays.
55. Embrace the spirit of giving by participating in secret Santa exchanges, where you can surprise a loved one or coworker with a thoughtful gift.
56. Decorate your home with festive ornaments, garlands, and wreaths, transforming your space into a cozy sanctuary that exudes holiday cheer.
57. Attend holiday-themed events in your community, such as parades, festivals, or tree lighting ceremonies, immersing yourself in the contagious joy that fills the air.
58. Create holiday-themed cocktails or mocktails, experimenting with flavors that evoke the warmth and merriment of the season.
59. Engage in acts of gratitude by writing thank-you cards to those who have made a positive impact in your life, expressing your appreciation and love.
60. Embrace the magic of the season by watching a performance of "The Nutcracker" ballet, allowing the enchanting music and graceful movements to transport you to a world filled with wonder and delight.
With these 60 different experiences to complete this Christmas season, your holiday festivities are bound to be filled with joy, love, and unforgettable memories. Enjoy every moment as you embrace the magic of this special time of year.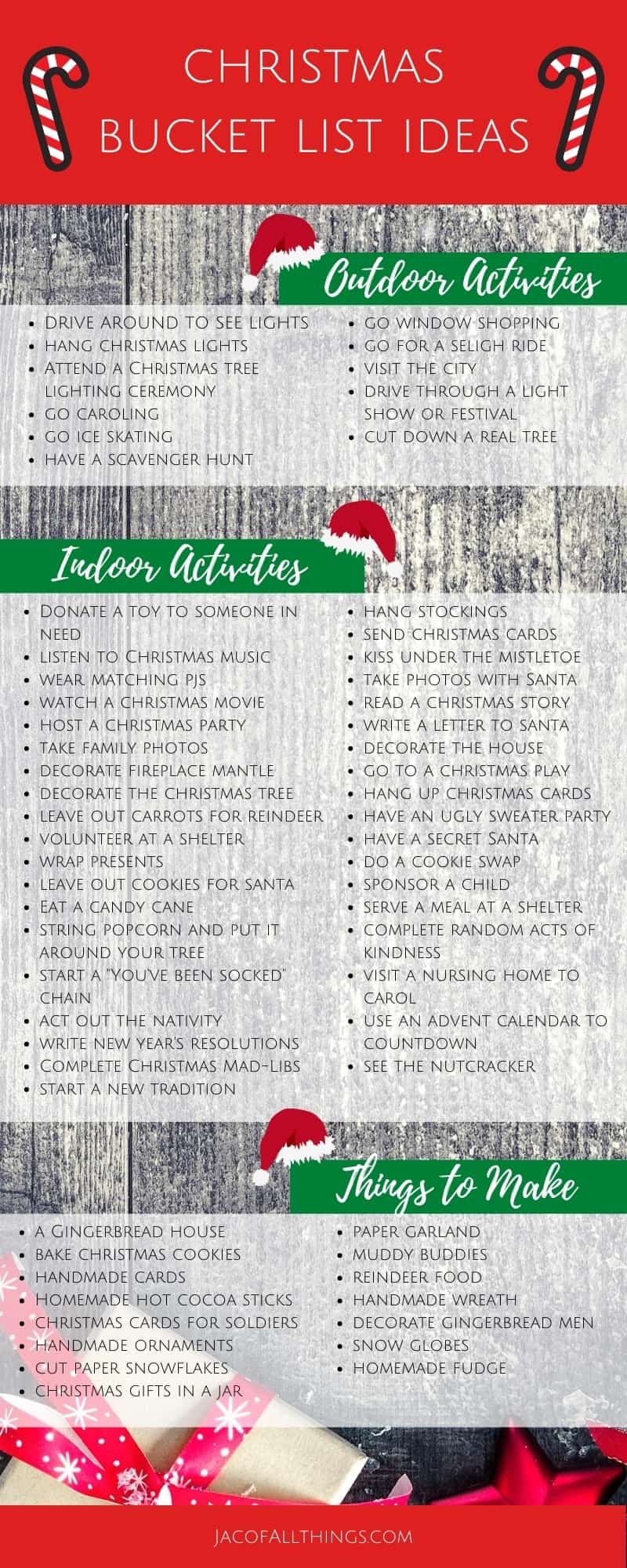 60 Things to Do Around Christmas Time
Drive around to find the best-decorated houses.
Hang Christmas lights.
Donate a toy to someone in need.
Listen to Christmas music.
Make a Gingerbread House.
Wear matching Christmas pajamas. (Check out our favorite matching pajamas!)
Watch a Christmas movie.
Host a Christmas party.
Take family photos.
Bake Christmas cookies.
Decorate your fireplace mantle.
Hang stockings.
Send Christmas cards.
Kiss under the mistletoe.
Take pictures with Santa.
Read a Christmas story.
Write a letter to Santa.
Drink hot cocoa. (Learn how to make your own hot cocoa sticks!)
Make your own Christmas ornaments.
Decorate the house.
Decorate a Christmas tree.
Attend a Christmas tree lighting ceremony.
Go caroling.
Go to a Christmas play or show.
Hang the Christmas cards you've received.
Volunteer at a local shelter.
Cut paper snowflakes.
Make garland from construction paper.
Have an ugly sweater party.
Make Muddy Buddies.
Make food for reindeer.
Wrap presents. (Don't forget to download this free Christmas gift tracker!)
Leave out cookies for Santa.
Leave out carrots for the reindeer.
Make a Christmas gift in a jar! (Check out some of our favorite Christmas gift in a jar ideas!)
Have a Secret Santa with friends. (Make it a white elephant gift exchange and check out our favorite gift ideas!)
Do a cookie swap.
Go ice skating. (Or one of our other favorite winter bucket list ideas!)
Go window shopping.
Sponsor a child.
Go for a sleigh ride.
Do a silly Christmas mad-libs (Check out this hysterical free printable Christmas mad-libs)
Serve a meal at a local homeless shelter.
Write out New Year's Resolutions. (This is our go-to printable for our resolutions and goals!)
Complete a random act of kindness. (Check out our favorite acts of kindness for kids!)
Act out the nativity.
String popcorn and put it around your tree.
Make a homemade wreath.
Cut down a real Christmas tree. (Christmas tree 101! Everything you need to know about cutting down a Christmas tree!)
Decorate Gingerbread men.
Make snow globes.
Visit a nursing home and sing carols.
Send Christmas cards to soldiers.
Start a "You've been socked!!" chain.
Make an advent calendar and count down the days.
Go see The Nutcracker.
Have a Christmas scavenger hunt.
Start a new tradition. (We love traditions in our family; check out some of our favorite Christmas traditions)
Make homemade fudge.
Drive through a light show or light festival.